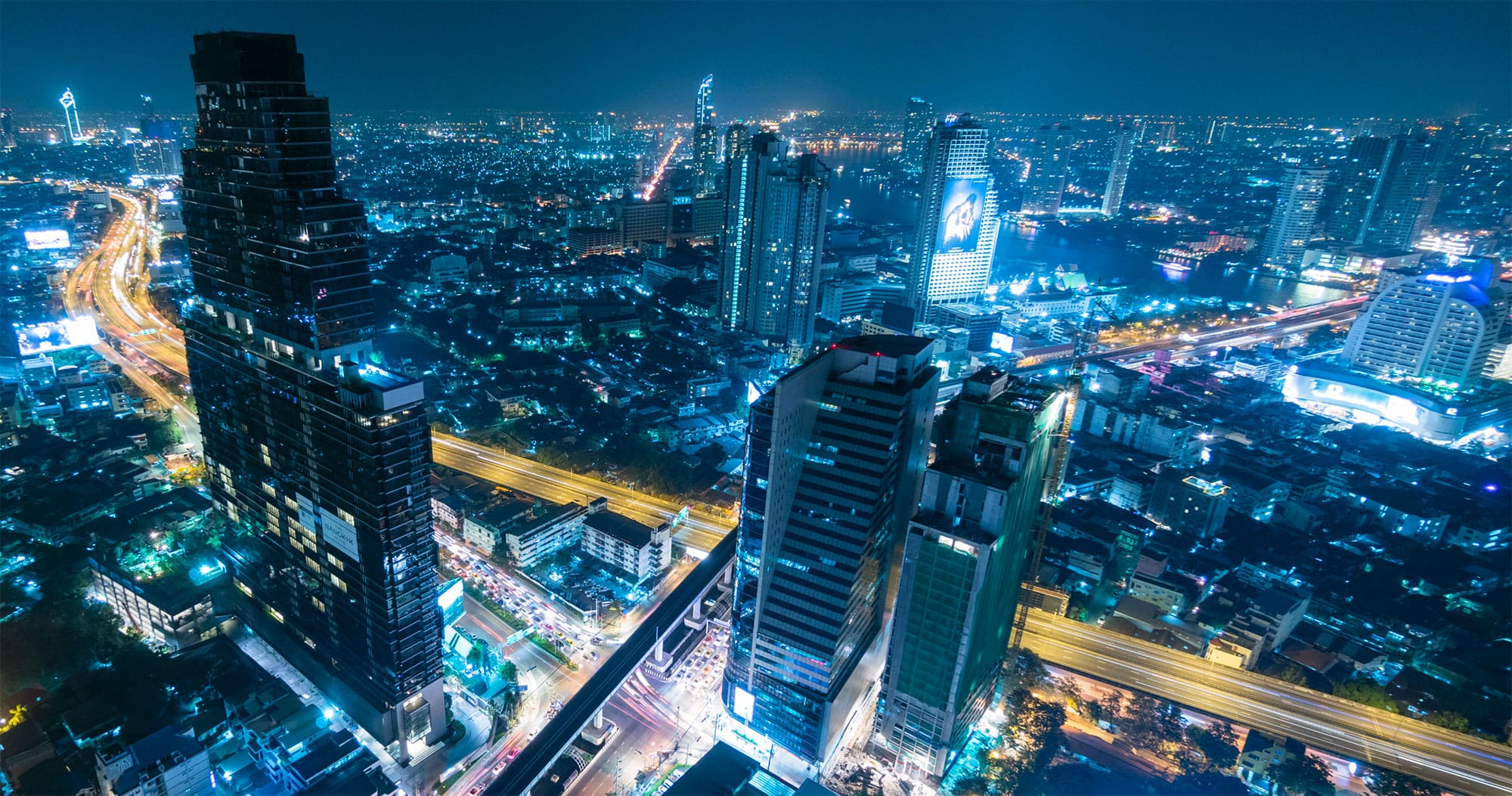 Get the Latest from entrustIT
How does Cloud CCTV Recording work?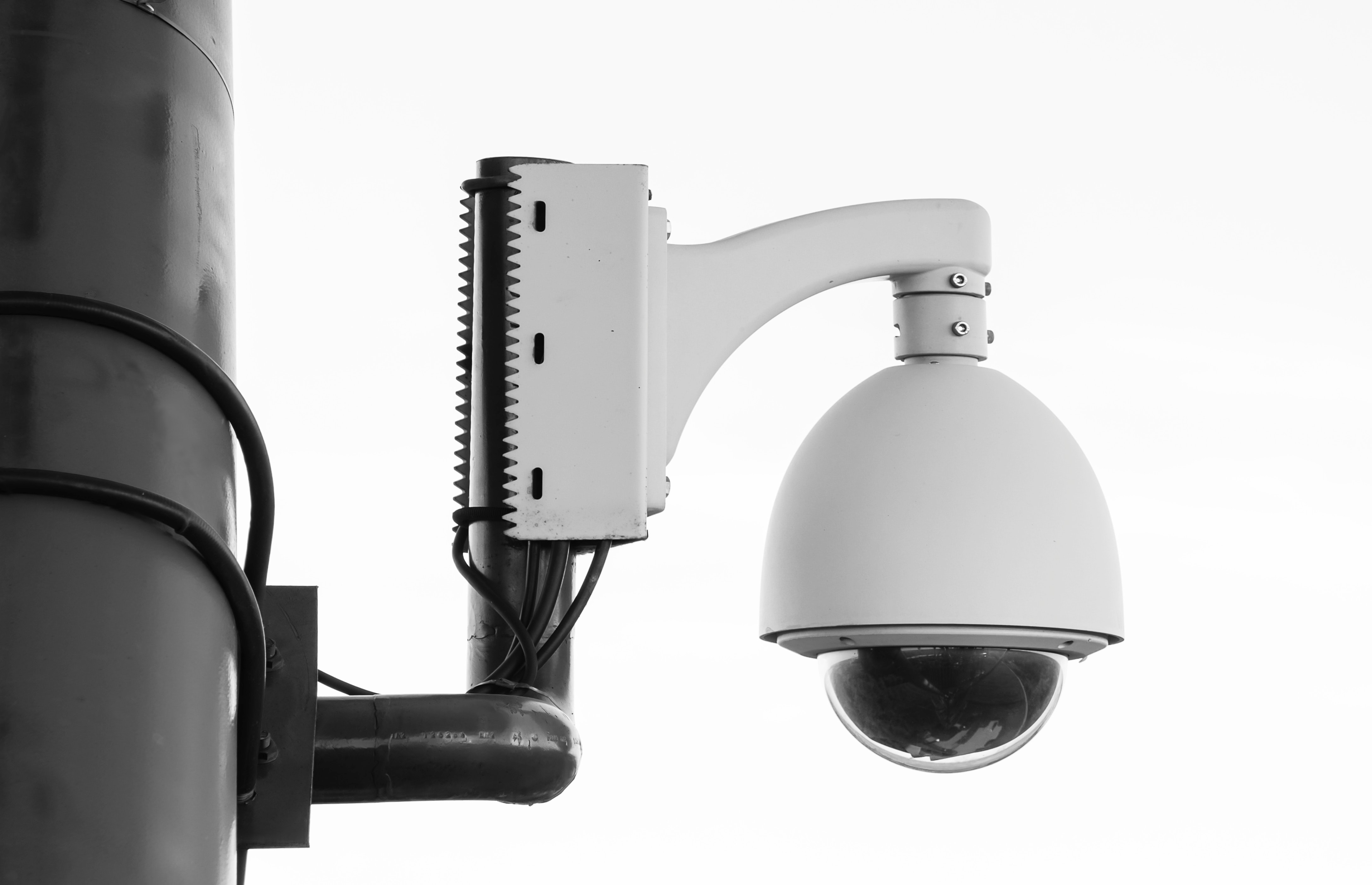 In a previous blog, we discussed Cloud CCTV and how it works for businesses. We discussed how Cloud CCTV differs from "traditional" CCTV, how it works for the end user, and how you can take advantage of this service. In this blog, we will go slightly further, describing exactly how the recording function of Cloud CCTV works in a technical sense. This blog will help you to understand where your CCTV recordings go, what effect that has on your internet bandwidth, and what the differences are between our two packages: VideoIT Essentials and VideoIT Advanced.
Interested in Learning more about Cloud CCTV? Download our FREE White Paper here >>
The Basics: How Cloud Recording Works
In a traditional CCTV setup, your cameras record footage and save it to a Digital Video Recorder (DVR). The DVR acts as a storage device for all your footage. To view footage from the DVR you must connect to it and view that way. Cloud CCTV takes footage from your DVR and uploads it to the cloud via your internet router. It is then stored in a Cloud Hosted Server. The diagram below demonstrates this process:

You can use the DVR as a pass-between, simply moving data from one place to the next, or you can use it as an extra storage source so that you always have a backup. In the simpler versions of CCTV packages, such as VideoIT Essentials you do not even need a DVR – but we will get on to that.
To move the recordings from your local DVR into the Cloud, you will need to sign up for one of the two entrustIT VideoIT Services. Once you have chosen your service, you will need to choose your level of retention. This means the number of days your recordings are kept on the cloud servers before they are overwritten.
Monitoring your footage
The entrustIT Cloud CCTV recording service allows you to view your camera footage, either with a real-time feed of your cameras or a view of your recordings. In the case of real-time view, you are viewing the footage from your cameras as it is being uploaded into the cloud. If you are using VideoIT Essentials, this process is happening directly from camera to cloud.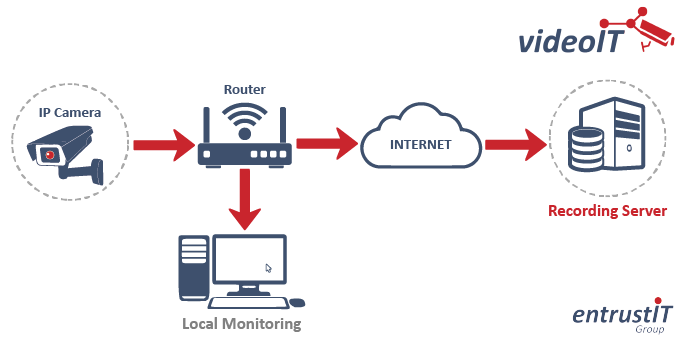 Whereas if you are using VideoIT Advanced, the images are first being processed through a DVR.

The importance of managing your bandwidth
Video files are large. For example, a 60-minute 1080p video is between 2.5GB and 4GB. Uploading video files to the cloud is likely to have an impact on your internet connection, particularly if it is not very fast or if it is shared between a number of staff.
If you have a number of cameras we advise that you take measures to manage your bandwidth. Many cameras uploading simultaneously to the cloud will slow down your internet connection and your staff will notice bottlenecks and slowdowns – particularly if your internet connection is not excellent.
Managing your bandwidth by compressing your video is an important step. The high quality video from your cameras is lowered to a smaller quality and the files compressed to help keep the files as small as possible as they are moved into the cloud. This is important in managing your internet bandwidth. The VideoIT Service handles this for you, meaning you do not have to intervene in any way, it all happens in the background.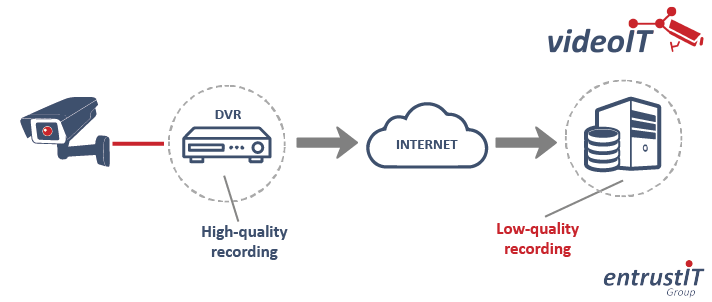 VideoIT Essentials vs VideoIT Advanced: What are the differences
VideoIT Essentials is the simplest of the two packages. It does not require a DVR to store video files locally. Rather, the video footage from your cameras are uploaded directly to the cloud storage service as it is captured.
Because there is no need for a DVR, the VideoIT Essentials package is more cost effective than VideoIT Advanced and is best suited for organisations with a small number of cameras, or where bandwidth management is less important.
VideoIT Advanced is, as the name suggests, an Advanced package. It requires an on-site DVR which initially stores your video footage. It is then up to you to choose when that footage is uploaded to the cloud. Typically, most organisations wait until the end of their working day to perform an upload. This is when your internet bandwidth is at its least utilised and therefore has the most capacity to conduct the upload as swiftly as possible. Furthermore, this is at a time where conducting an upload will have no knock on effect on the bandwidth of your staff.
Typically speaking VideoIT Advanced is designed for businesses with a lot of cameras, a large number of staff, or comparatively weaker internet speeds. It is important to discuss your requirements with entrustIT prior to choosing your package, as we will be able to give you the best possible advice based on your infrastructure and your requirements.
What is the next step?
If you are interested in learning a little more about Cloud CCTV, visit the entrustIT Cloud CCTV page. We have a number of excellent resources to keep you informed.
The team at entrustIT will handle the whole process for you. We can either make a recommendation of cameras for you to purchase or we can procure them for you. Our engineers will visit your site to conduct a survey and plan where to best place the cameras. We will also conduct a network assessment to decipher if your internet connection may cause you problems down the line and then we will install your cameras for you and ensure they are working correctly.
Once your cameras are installed you will receive access to our online portal and smartphone applications where you can view your camera feed. You will also receive ongoing support from the entrustIT Service Team to manage any issues related to your CCTV system.
If you would like to learn more, visit our Cloud CCTV webpage.
Download our FREE CCTV White Paper for the facts on Cloud CCTV > >