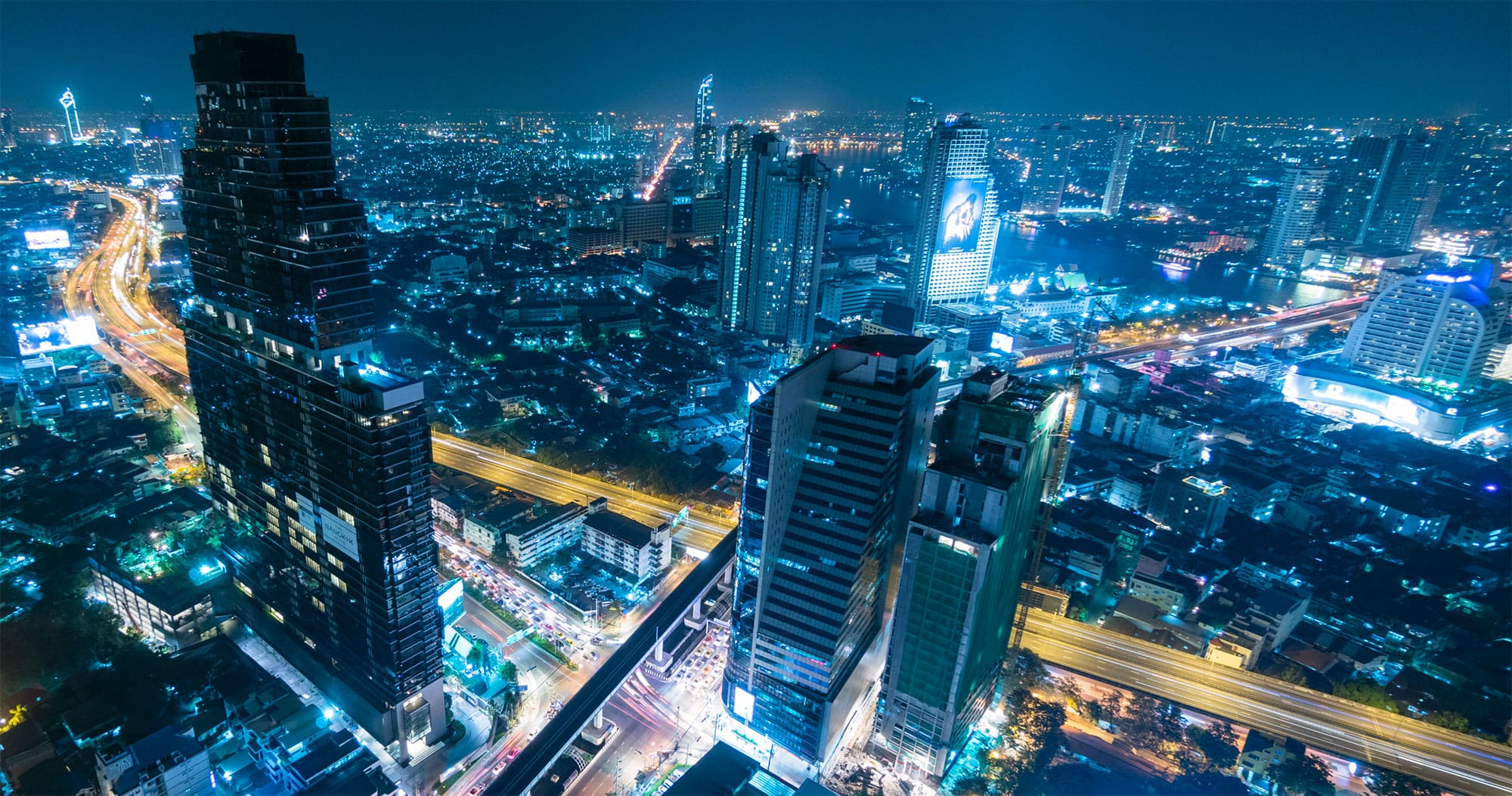 Get the Latest from entrustIT
Microsoft Ignite 2020 Key Takeaways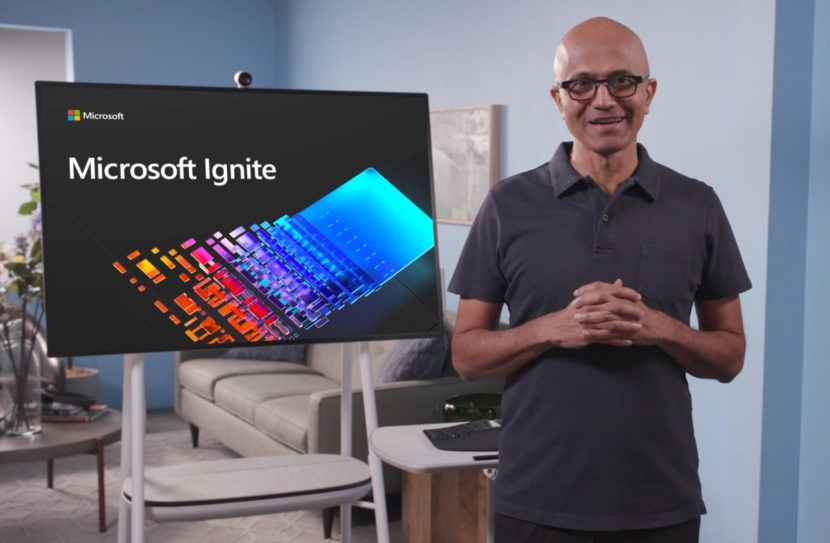 Last week, Microsoft hosted Ignite 2020, the tech giant's annual conference that centres on IT professionals and the businesses and productivity workers that they support. Each year, Microsoft showcase their enterprise products and services as well as provide valuable training attendees. The event is also always jam-packed with announcements of new features to its line-up of products, with this year being no exception, despite being held 100 percent virtually for the first time ever.
At the event this year, Microsoft remained focused on the changes and challenges bought on by the COVID-19 pandemic and how businesses who embraced digital transformation and the power of technology have been best able to efficiently shift and remain operating despite the disruption. The company hope that the new updates and features will help solve the immediate challenges businesses face, for example by boosting the productivity and security of office and home workers across the globe, while also setting them up for future success.
"We are experiencing digital transformation at epic speed," Jared Spataro, Microsoft Corporate Vice President notes. "COVID-19 has accelerated secular trends in the ways we work and live, jumpstarting durable new habits that will persist well past the pandemic. Throughout 2020, as we've navigated the equivalent of a year of digital transformation every month, it's IT pros who've led the way. When COVID-19 caused a sudden shift to remote work, IT pros brought entire organizations online – sometimes over a single weekend. They trained individuals and teams on essential new tools, quickly deployed custom apps, and vigilantly protected organizations from increasingly complex security threats. Now, as business leaders look to build resilient organizations and find new opportunities for expansion, they're looking to IT pros for sustainable solutions to support them for the long haul."
As an IT provider of over 15 years and a Microsoft Direct Cloud Solutions provider, we always try to stay on top of everything Microsoft. As a result, we are able to provide our customers with the best in-class solutions as well as offer advice to them on how to get the most from their investment. Here's a rundown of some of the key takeaways from the 2020 event that stood out to us.
Teams Enhancements
During the Coronavirus pandemic, Microsoft Teams, growth exploded exponentially. According to new data released by Microsoft in March, Teams usage jumped nearly 40 percent in a week with 44 million daily active users. The platform then skyrocketed another 70 percent by the end of April – Microsoft CEO Satya Nadella revealed that Teams usage has increased to more than 75 million daily active users.
At Ignite 2020, Microsoft announced serval new ways for organisations to drive success and empower their employees in an age of remote work by using Microsoft Teams.
Microsoft launched new 'Together Mode' scenes and custom layouts. These have been designed to make presented content in virtual meetings more dynamic and engaging. If you haven't heard of 'Together Mode' yet, it is a recently released premier app for teamwork and team connection. You can find out more about it here.
Personal well-being insights and features are now integrated into Microsoft Teams – this includes integration with popular apps like Headspace. Microsoft hope for this to make it easier for staff who benefit from meditation to de-stress and find focus before, during, or after busy workdays.
Workplace Analytics within Microsoft Teams now has a window into organisational resilience to provide management with some insight into their employees. For example, by highlighting certain insights management will be able to understand if employees are at risk of burnout, or if employees are able to maintain strong connections with customers as well as their colleagues.
Data insights using Power BI can now be accessed by users within Microsoft Teams. This has been done to help everyone make better business decisions. For example, by moving PayPal to Teams and adding a tab for Power BI visualisations to Teams meetings, project status' and goals can easily be shared by staff members during meeting held in Teams.
Azure News
Microsoft Azure is an ever-expanding set of cloud-based computing services. At the Ignite 2020 conference, Microsoft announced the previews of two new services; Azure Communications Services and Azure Orbital.
Azure Communication Services (ASC) is a new communications offering which is built on top of Azure. Microsoft say that it leverages the same low-latency global communication network powering Microsoft Teams to enable organisations to securely build and deploy communications platforms. Microsoft hope ASC will make it easier to add voice and video calling, chat and SMS texting to a business' own mobile apps, desktop applications and websites by just requiring a few lines of code. For translation and sentiment analysis, developers can also tap into other Azure services such as Azure Cognitive Services.
Azure Orbital is a new service that has been designed to give satellite operators a complete platform to communicate with their satellites, then process and analyse the data captured. Customers of the service can take advantage of large satellite datasets, without needing to deploy special hardware in its own data centres or ground stations due to the access to low-latency global fibre networks and the global scale of Microsoft's cloud services.
Healthcare Cloud
Microsoft will be making its first ever industry-specific cloud, Microsoft Cloud for Healthcare, generally available on October 30, 2020. The cloud is architected to comply with the regulatory needs of the healthcare industry and is an integrated solution combining the capabilities from Microsoft Azure, Microsoft 365, Microsoft Dynamics 365 and the Microsoft Power Platform. They hope than in an ever-changing healthcare environment, it will help organisations in this industry set a course for recovery and resilience.
"Microsoft Cloud for Healthcare is how Microsoft, and our partner ecosystem, helps healthcare organizations re-imagine tomorrow:" said Microsoft. "by empowering everyone to deliver value faster, to make more impactful decisions to set a clear course for the future, and to adapt and transform with boundless agility. We're helping shape and scale digital health capabilities that empower healthcare organizations to get inspired with insights, tools, resources, and rapidly build solutions to drive better experiences, insights, and care.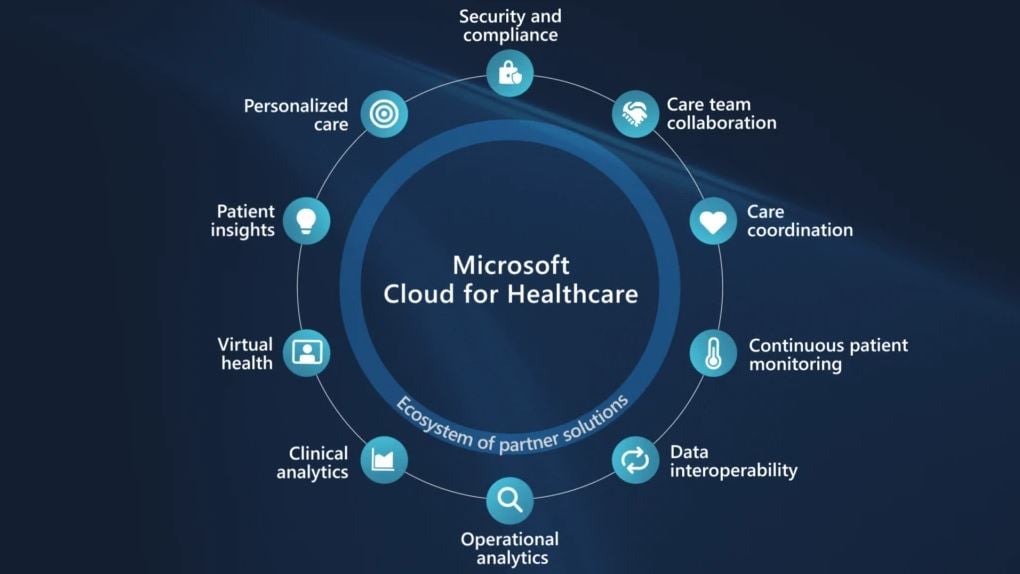 Dynamics 365 Updates
In 2016, Microsoft announced Dynamics 365, a set of intelligent business applications which would help organisations run their business and deliver greater results through the use of predictive, AI-driven insights. At Ignite 2020, Microsoft unveiled some new updates to Dynamics 365 which focus on the most critical centres for customer satisfaction, especially in today's business climate: service and supply chain.
A new first-party voice channel for Dynamics 365 Customer Service is now available in private preview. As a single solution built on Azure Communication Services, the voice channel streamlines contact centre operations to provide an end-to-end customer service experience. It eliminates issues that are created by custom-built integrations and provides real-time feedback and sentiment analysis for agents. Since it is built upon Microsoft's Common Data Model, voice channel data requires no data manipulation or reformatting.
Two new add-ins for Supply Chain Management have also been added and will be arriving through public previews next month. Firstly, Cloud and Edge Scale Unit enables critical warehousing and manufacturing workloads to be run on the Edge using Azure stack devices which improve resilience and ensure operations can run around-the-clock, even when temporarily disconnected from the cloud. Secondly, Inventory Visibility allows large-volume retailers and manufacturers to handle millions of transactions each minute and determine cross-channel inventory correctly in real time. The new add-in has been termed as 'hyper-scalable' and can be utilised with third-party systems.
Finally, Dynamics 365 Project Operations will be generally available in October. This has been designed to connect and empower your sales, resourcing, project management and accounts teams with the visibility necessary to deliver exceptional customer service on-time and on-budget. Dynamics 365 Project Operations integrates seamlessly with current enterprise systems so that you can drive business growth without the need to completely replace your existing systems. Furthermore, if built with Power Apps, other Dynamic 365 applications and custom applications can be added through the solution, and then connected with Microsoft 365 services, MS Teams and SharePoint.
Power BI Enhancements
Since Microsoft made Power BI generally available over 5 years ago, their mission has been to help users drive a data culture, where every individual can make each of their decisions better informed by data. At Ignite 2020, Microsoft noted how they have been hard to work on this and have some exciting new capabilities to announce. Below are some of them.
The Power BI app for Microsoft Teams is becoming available for public preview. It provides a central place and personalised place for data within Teams. Microsoft hope for it to help customers scale insights across their organisations by ensuring insights are only a click away from where their conversations are happening and where decisions are made.
Power BI is also now integrated seamlessly with Excel. This is to make it easier for users to discover and analyse trusted Power BI datasets that are refreshed, governed and secured directly within Excel.
Microsoft also announced that Power BI Premium Per User will be in public preview by November. This is to act as an entry point to Premium, for those organisations that are not ready for the full Premium which is available as a capacity license for an entire organisation. Premium customers can also use it as a new on-demand capacity scale option.
These are just a handful of the hundreds of new capabilities and features Microsoft announced at Ignite this year. In today's current climate, organisations will need to ensure they hardness new technologies and advancements like the ones we have spoken about in the blog, as well as the new levels of flexibility and efficiency that come with them, to remain resilient as the world changes around us. If you're unsure where to start with using them, entrustIT have years of technical experience with Microsoft qualified technicians ready to help you get the most from your Microsoft investment. Please get in touch with the team on 0330 002 0045 or email enquiries@entrustit.co.uk for more information.