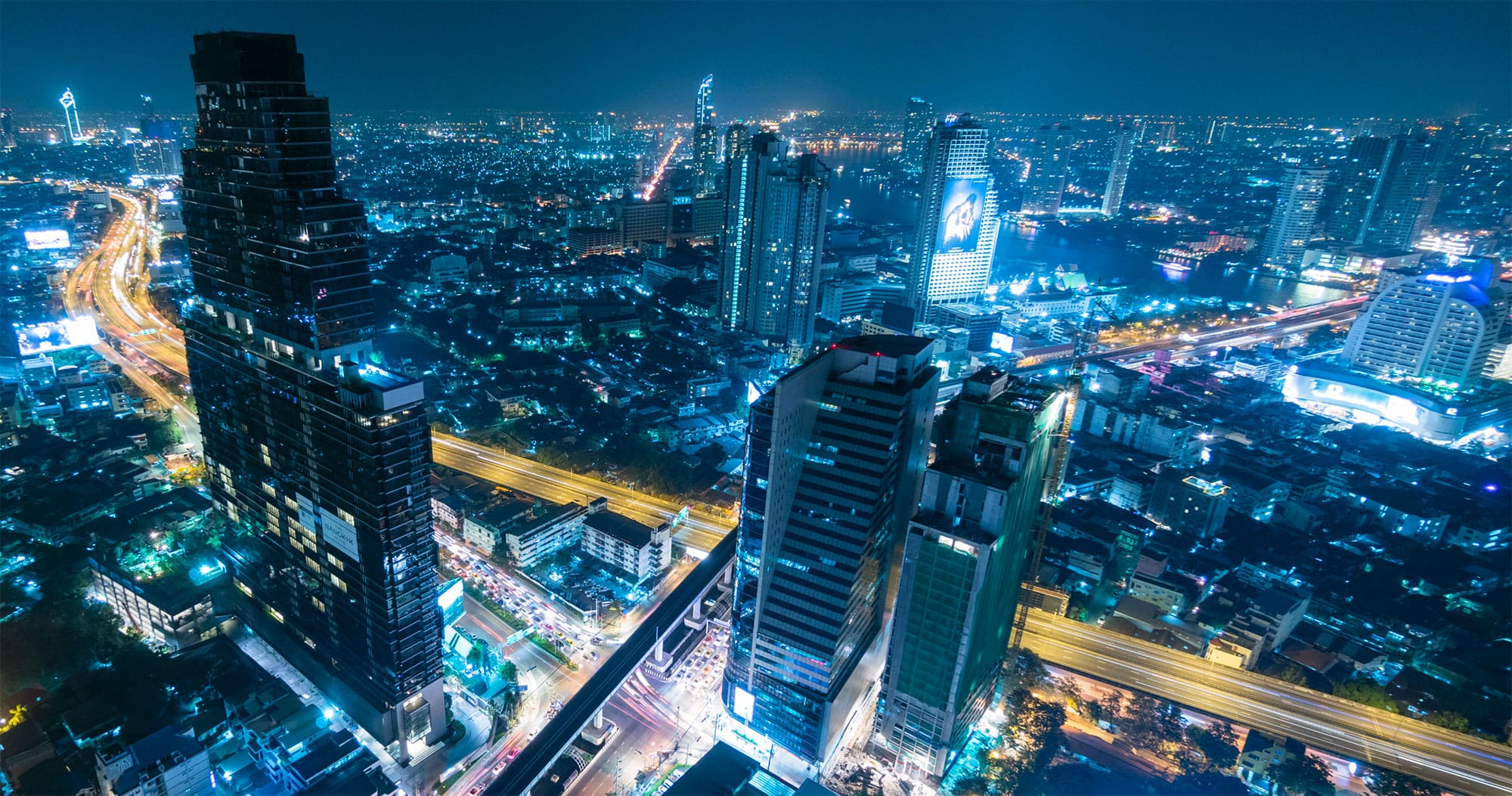 Get the Latest from entrustIT
Work Remotely, Productively with Microsoft Teams and OneDrive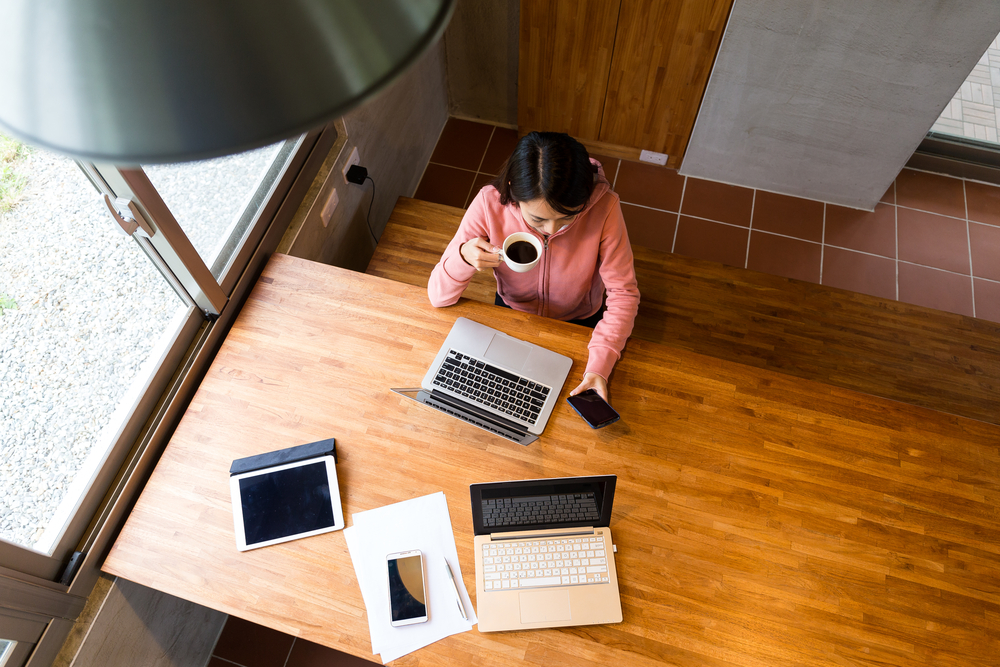 With the looming uncertainty around the new Covid-19 Omicron variant and case numbers rapidly increasing, it is once again time for the government to impose restrictions. Unlike the first lockdown in 2020, where we were suddenly forced to work remotely with little to no planning, we are now armed with almost two years of experience and whilst we are most certainly still finding our feet, it is becoming apparent there are many positives a mix of remote, and in person work brings to companies that embrace this Inevitable merge.
Throughout this blog we'll be going over this new hybrid way of working, how this has benefited companies, and some of Microsoft's 365 applications and features that will help you and your team feel as close and organised as ever, even through a lockdown.
Remote Working Is Here to Stay
People want the flexibility and freedom of remote work but with the familiarity and ease of in person communication, collaboration and inspiration. We have always had a separation between "remote" work and "in-person" work, but as time moves on the line that separates "remote" work from "in-person" work is becoming more blurred.
Below are some examples of companies who have embraced remote work and what they did to do so:
Facebook – This Social media giant were one of the first companies to embrace working from home at the start of the pandemic and now that time has gone on they still require employees to work at least a couple of times a week from home, and have given the option to more senior employees the option to work from home permanently
Dropbox – Embracing remote work fully, Dropbox have taken things a step further by allowing ALL employees to work from home permanently, in addition to this they have changed their offices into "Dropbox Studios" where people are free to come in and work or host meetings but are not required to do so.
Spotify – Similar to Dropbox Spotify have allowed their employees the choice to permanently work from home but have continued to pay for "coworking spaces" that employees can go to when they feel it would be beneficial.
Twitter – Have allowed ALL employees the option to work from home indefinitely and only need to come into the office when they choose.
This list only scratches the surface of companies that have transitioned to a hybrid way of working, and it is safe to say they will not be the last.
The Applications and Their Benefits
We have mentioned a lot about the benefits of remote work, but what are these applications that are allowing hybrid working to become the new norm?
For a start it is no one application, the whole of Microsoft's 365 roster combined is what makes their service so great, you have everything you could ever need from the essentials like, Word, PowerPoint, excel, to organisational applications like Outlook, SharePoint and Exchange; and finally, collaborative applications that bridge the gap that once separated remote and in-person work like, Teams and One Drive.
Eliminating the need for all employees to be in a certain "place" or office to communicate and collaborate effectively is what's allowing this new wave of remote workers, so were going to give a rundown of what Microsoft's Teams and OneDrive are, and how they can help your company.
Teams
Microsoft Teams is an audio, video and chat-based collaboration platform, which has been Microsoft's only communication program since it became the official replacement to Skype for Business, and Microsoft Classroom in 2019. Since the start of the pandemic Teams has gained an exponential amount of traction going from an average daily user count of 13 million in 2019, to a staggering 150 million by mid-2021.
Here are some of the main features Teams provides that make it the perfect communication tool you can use throughout your business:
Video calling and Screen sharing – Microsoft provides high quality and seamless video calls, that allow up to 20 participates to stream themselves all at one time, making remote meetings feel as normal and human as possible. A sister feature to video calling is the ability to screen share and access other people's desktop all under the same window, making multi-user real time collaboration and technical assistance as simple as ever.
Integration of SharePoint – SharePoint is Microsoft's web-based collaboration and document management platform used to share files and information between teams. Any group that uses Teams will have a site created on SharePoint which will contain all files shared across all conversations. (Permissions and security options can be customized for sensitive information)
Chat – This feature is commonly found within most collaboration apps and allows you to communicate through a chat box connected to a meeting, group or individual. Additionally chats are persistent meaning they are stored through teams and can be accessed and filtered through at a later date, allowing you to easily check back on a conversation or meeting that took place in the past
Online meetings/ assemblies – Let's say, you need to quickly get an intricate message or plan across to hundreds or even thousands of people all at one time, whilst still allowing participants to communicate and ask questions. Teams can do that for you. Teams allows you to host meetings that can hold thousands of participants at one time whilst still including a chat box, file sharing and note taking software.
OneDrive for Business
OneDrive for Business is Microsoft's cloud storage and sharing application, the platform works by bringing together chats, video calling and files with many Microsoft and non-Microsoft apps. This creates one singular workspace that can be accessed by any device at any time by the end user, effectively breaking the shackles of having to work from one place, on one device, giving your workforce the freedom to work from anywhere whilst still being as productive as ever.
One of the obvious benefits of using OneDrive is the secure private cloud storage, which you can access from any device. Cloud storage alone is a great tool, but in we believe what really makes OneDrive a collaborative necessity, is the ability to give other team members, or collaborative partners, the right to edit any of your teams Microsoft documents in real time. For example, this means you could be writing a report and at the same time another team member, or partner could add to the report in front of your eyes, from anywhere, on any device. This cuts out any need to tediously send documents back and forth and enables you and your team to quite literally all be on the same page when working on a document collaboratively.
We will use Microsoft Word as an example to show of how easy it is to enable real time collaboration, we have chosen to do this on word because it is one of the more common Microsoft applications, but the process is the same for all Microsoft office documents.
Step 1 – Whilst on the document you wish to give your team access to, click the Share button, which can be found in the top right corner of the document: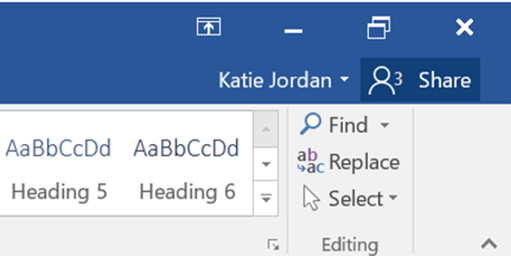 Step 2 – Once share is pressed a panel will appeared, this then allows you to invite your colleagues and partners and set what level of editing or viewing permission they have, then just press share again: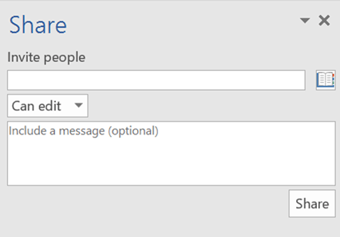 Step 3 – Once shared anyone invited will receive an email with a link to the document, when the link is clicked the document will then open allowing them to either edit or view the document (depending on permission given). If you and others are in the document working at the same time you will see a coloured flag representing each person and what they have last edited: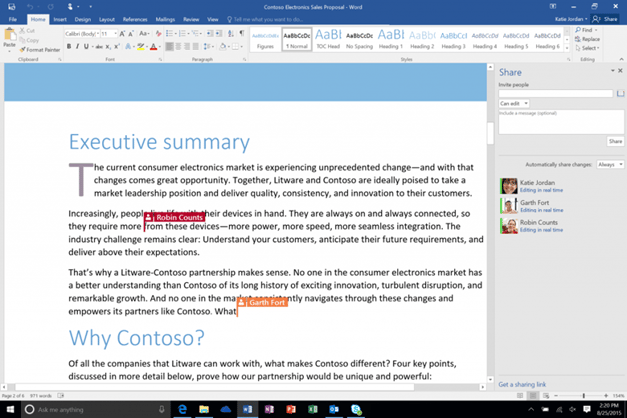 Easy as that, three steps are all it takes to give others access to your work in real time.
This "sharing" can also be done through OneDrive directly by following the same process of pressing the share button, selecting who has access, and then selecting any documents you want to send. This all happens whilst your documents stay organised, protected and stored through One Drive, even when edited and saved by another colleague working elsewhere.
Whilst real time collaboration is defiantly a key feature its not the only benefit to using OneDrive.
Bellow are some of the other benefits using OneDrive gives:
Secure storage of files and sensitive information
Unlimited access to files any time, from any device
Organisation system for files
Increase in device storage (As most files will now be stored via the cloud)
Deep integration with other Microsoft applications
Supports multimedia


Embracing Remote Work
With another tightening of restrictions and guidance to work from home, it seems remote work is here to stay. Remote work doesn't have to be a negative thing, giving people the freedom and flexibility to work remotely can save time and money, and when given the right tools productivity can be even higher than in the office.
By making use of Microsoft Teams, OneDrive and the rest of the 365 roster, you can ensure the security of your documents, and the safety of your employees, whilst keeping them connected and collaborating in the most human way possible.
entrust IT Group have been at the forefront of Microsoft 365 implementation and support for many years, working with a variety of businesses to help them take the step towards setting up their remote workspace. The age of remote work is here, and you don't want to be left behind, it could be time to embrace this change and give your colleagues the tools they need to communicate, collaborate and become inspired once again, from anywhere, at any time, on any device.